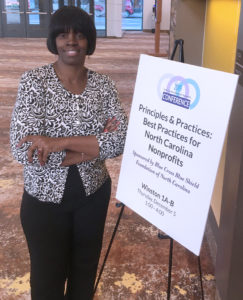 Pamela Palmer has provided consultation in various roles related to leadership, organizational, program, and community development. Her professional experience also includes consulting in the areas of program development and management, organizational development, staff development, program evaluation, and community development. She also has a special interest in church development. It is her desire to support church-based initiatives that help members maintain a spiritually-driven life. She currently leads the Guilford County Resource and Referral Center as one of the founders and Executive Director. In addition, she was an Instructor and Assistant Professor of Nonprofit Leadership and Management, for 23 years, at High Point University.
She attended Winston-Salem State University (undergraduate school) and North Carolina A&T State University for her Masters Degree in Human Resource Counseling. Pamela completed the Leadership Studies Doctoral Program at North Carolina A&T State University.
In addition, Pamela has served and continues to serve, on various nonprofit boards and committees, in hopes that she will make contributions that foster quality services and integrity; to the many individuals impacted by human services on a local, state, regional, national and international level. Some of her recent board and volunteer commitments are to her church, the United Way of Greater High Point, Guilford County Area Mental Health Association, Mayor of High Point's Workforce Preparedness Task Force, and Executive and Program Committee member of the American Friends Service Committee. Other volunteer and board commitments over the years include YMCA of Jamestown, Davidson County Smart Start, Youth Unlimited, North Carolina Institute of Political Leadership, Head Start (Raleigh, NC), the Volunteer Center of Greensboro and a host of others.
She grew up in Lexington, NC and resides in Jamestown, NC – with her husband Alan Palmer, son Joshua and mother Ann Mitchell.
Pamela views herself as a resource for individuals and organizations seeking to develop or enhance their ability to contribute to their community.